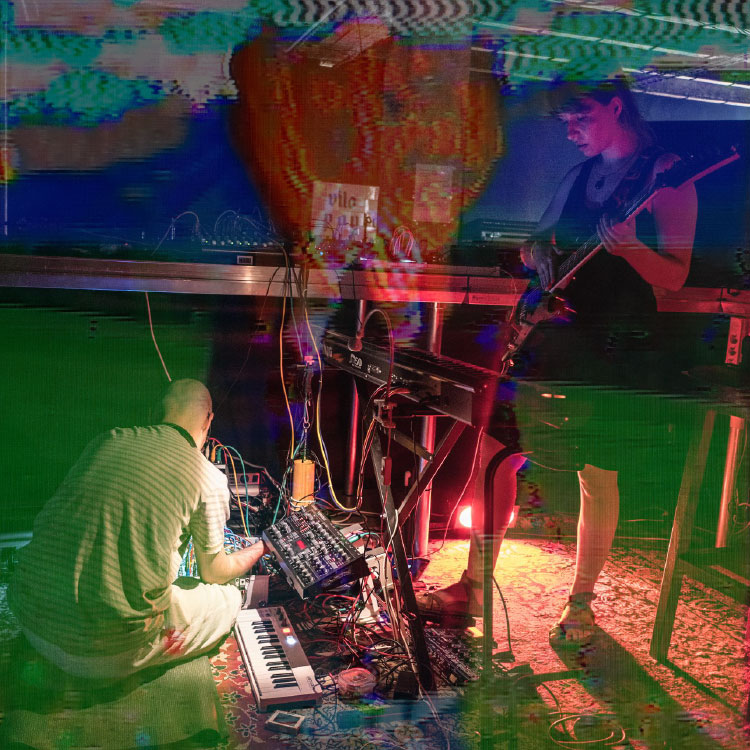 Katov Syn(th) + Vesmír a technická obsluha
Katov Syn(th)
Katov Syn(th) aka Dominik Novák je multiinštrumentalista a hudobný producent, aktuálne pôsobiaci v zoskupeniach Kúpel Mysle, Kultúra Smrti a v audiovizuálnom projekte The Blackwood Incident. Jeho sólová tvorba pod aliasom Katov Syn(th) sa vyznačuje kombináciou kazetových loopov, analógovej syntézy a spätnej väzby, ktoré posúvajú hranice fyzického zvuku do hlbších úrovní vedomia. Možno ju počuť napríklad na debutovom albume The Blackwood Incident Curse of the Tribe či v rámci tanečných predstavení Soni Kúdeľovej Autopilot a Autocorrect. Je členom projektu Batyskaf, ktorý sa zameriava na organizáciu podujatí nezávislej kultúry v Bratislave.
Vesmír a technická obsluha
Lukáš a Gabriela si spolu prvýkrát zahrali na ambientnom prespávacom festivale Dream Scenes v roku 2019. Odvtedy našli spoločnú záľubu v syntetizátoroch, v ich objavovaní a pri hraní sa nechávajú unášať ich možnosťami. Majú radi meditatívne plynúci ambientný mikrokozmos spestrený širokým spektrom ruchov.
Na základe nového Covid automatu platného od 12.8.2021 bude Klub Lúč fungovať v režime: OTP (očkovaní, testovaní, po prekonaní COVID-19). To znamená, že na podujatia organizované v Klube Lúč umožníme vstup iba divákom, ktorí patria do skupiny OTP (očkovaní, testovaní, po prekonaní COVID-19), a budeme vyžadovať potvrdenie o očkovaní, testovaní alebo prekonaní COVID-19. Viac informácií TU